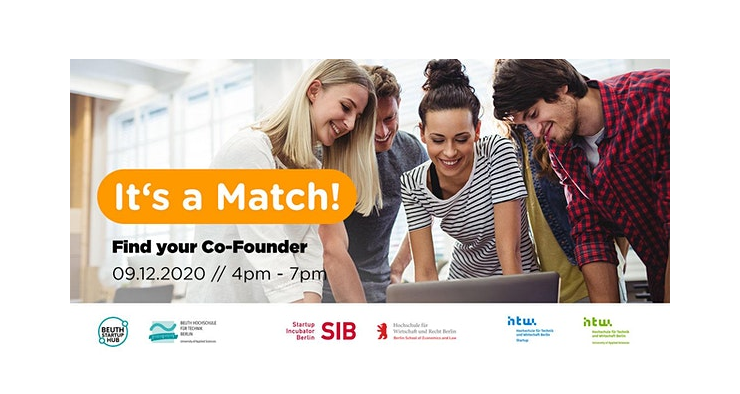 Co-Founder Matching
9. December 2020 @ 16:00

-

19:00
Find your Co-Founder! Find your business idea! Join this digital matching event that might kickstart your business journey.
Are you looking for an idea or a startup to invest your skills as a Co-Founder? Or do you have an idea and are still looking for a suitable partner with the fitting skillset? Then join our Co-Founder Matching!
The applied universities of Beuth Hochschule für Technik, Hochschule für Technik und Wirtschaft Berlin and Hochschule für Wirtschaft und Recht Berlin join forces in order to present you with a digital matching event that might kickstart your business journey.
Details and technical requirements:
A working camera and microphone.
Software and tool: Zoom and Wonder.me.
We strive to give 25 startups and 25 potential Co-Founders the chance to get matched.
Limited number of attendees: First come, first served!
We will send you a confirmation e-mail prior to the event with the link to the virtual meeting room.
We will also inform you if the event is already fully booked. But please don't worry, the next Co-Founder Matching will be carried out soon.
After registration for the event, we will send you an e-mail to ask about your request and what you are looking for. Please respond promptly so that we can match you appropriately. We are looking forward to you!
Agenda
04.00 – Welcome, Warm-up & Intro to Wonder.me
04.25 – Welcome to Co-Founder Matching "The power of teams"
04.45 – First Matching Round & Networking
05.15 – Second Matching Round & Networking
7.00 – End
*no worries, breaks are included
Please note that videos will be taken during our events. By visiting our event, you agree to a possible publication of those. Tickets are limited.
Register Now
Share This Post With Others!