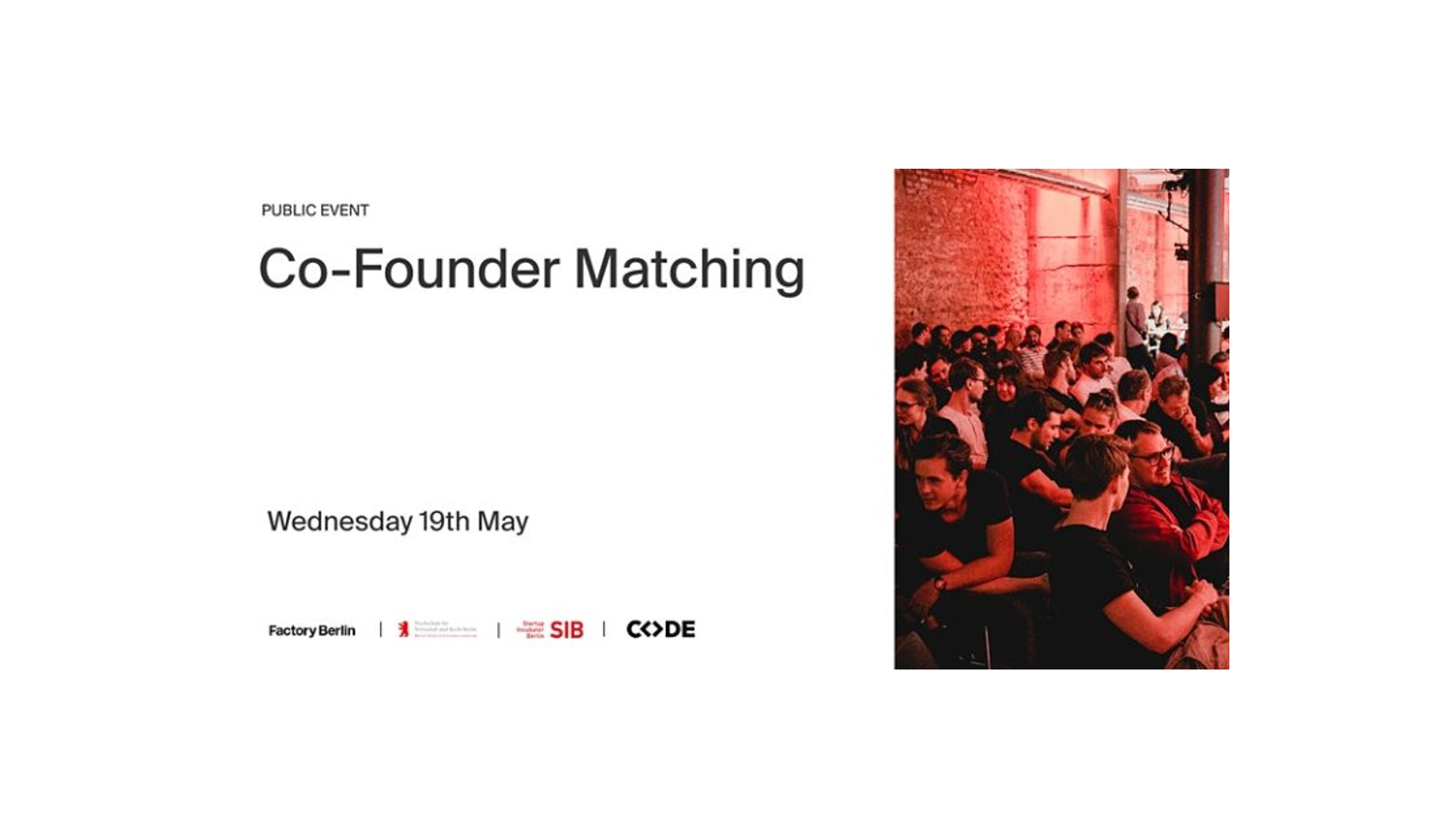 Co-Founder Matching SIB, Code University & Factory
19. May 2021 @ 16:00

-

19:00
Are you looking for an idea or Startup, where you can invest your skills as a Co-Founder? Or do you have an idea, but you are still looking for the right companion with the fitting skillset?
Then join the Co-Founder Matching. The Startup Incubator Berlin, Code University and Factory Berlin join forces in order to present you with a digital matching in order to support great startup ideas and strengthen teams.
Prerequisites for attending:
You should have a working camera and microphone

MS-Teams and Wonder.me will be used for the event (Links will be sent manually via E-Mail a few days in advance to the event including Matching Rounds)

We strive to give all Startups and potential Co-Founders the chance of being matched. First come, first served! It is not possible to have an elevator pitch of all startups at the beginning. Instead the startups will individually pitch their idea at the Matching Round Tables.
Moderator:
Digital Design Thinking Coach Norman Nemitz
Agenda 19th May 2021:
04:00-04:20 Welcome Co-Founder Matching Event in MS Teams
04:20-04:30 – Transition to Wonder.me
04:30-04.45 – 1. Matching Round
04:45-05:00 – Free Networking
05:00-05:10 Break (5-10min)
05:10-05:25 – 2. Matching Round
05:25-05:40 – Free Networking
05:40-05:55 – 3. Matching Round
05:55- 06:00 – Wrap up
06:00-07:00 – Free Networking
END
Please note that videos will be taken during our events. By visiting our event, you agree to a possible publication of those.
Register Now
Share This Post With Others!