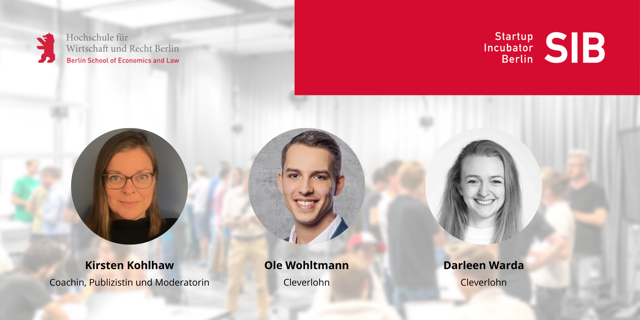 Fireside Chat: Let's talk about serendipity!
17. November 2021 @ 17:15

-

17:45
More than just lucky. How Serendipity boosts the Entrepreneurial Mindset for Success.
Luck favors the prepared mind, they say. But how exactly do we prepare ourselves for the unexpected? And how can we engage in the process of identifying new and matching pairs of two or more observations, events or fragments of information, that can be put to practical or strategic use? And all of that while focussing on developing a successful Business Model for our startup?
What helps us develop and improve our Serendipity Mindset? And why is serendipity such an asset for Entrepreneurs to begin with?
In this fireside chat, Business Model Coach and Entrepreneurship Educator Kirsten talks with Darleen and Ole, the two founders of CLEVERLOHN, about their entrepreneurial journey.
What has sparked their venture so far, which lucky incidents and encounters have helped them get to the point where they are now, what challenges are they currently facing and how does their Serendipity mindset help them to get amongst it all?
Darleen and Ole are currently enrolled at Berlin School of Economics and Law and are busy working on their startup CLEVERLOHN, an easy and carefree digital bookkeeping solution for SME.
Join us for the talk and engage in the online Q&A, ask Darleen and Ole your questions!
Please note that photos and/or videos will be taken during our events. By visiting our event, you agree to a possible publication of those.
Register now
Share This Post With Others!