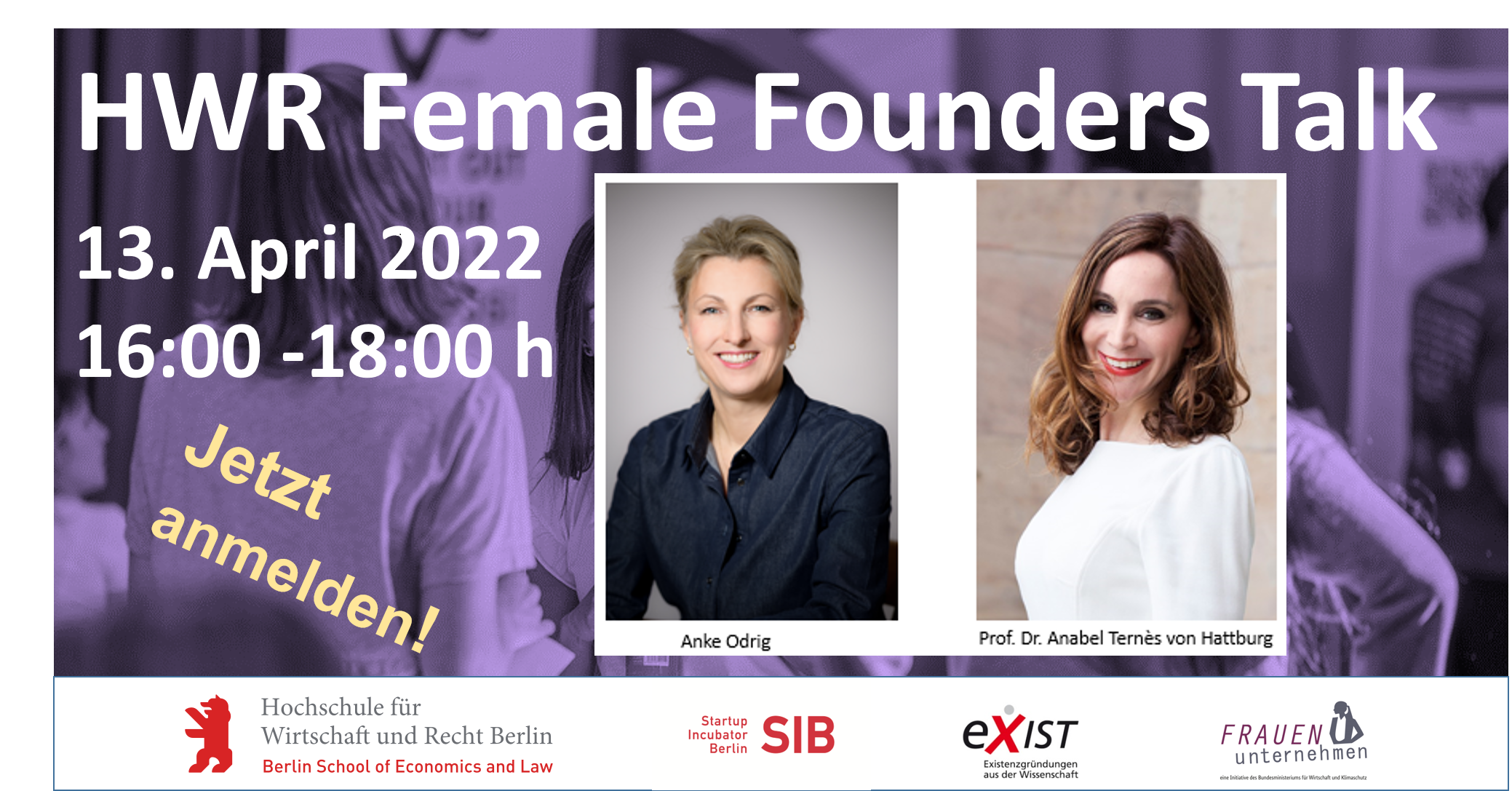 HWR Female Founders Talk – lass Dich inspirieren
Der HWR Female Founders Talk ist ein knackiges Format, das der Inspiration dient.
Du bist Studentin, Gründungsinteressierte, Erfinderin, Forscherin oder Akademikerin und überlegst aus deiner Idee ein Startup zu gründen?
Du hast Unternehmertum im Blut und den Entrepreneurial Spirit, aber Angst vor einem Risiko? Du bist Dir nicht sicher, was es bedeutet selbständig zu sein? Wie ist es mit der Vereinbarkeit von Familie und Beruf? Mit Finanzierungen und Förderungen für Frauen?
Es gibt viele Fragen. Lass Dich von zwei erfolgreichen Vorbild-Unternehmerinnen inspirieren. Anke Odrig und Prof. Dr. Anabel Ternès von Hattburg erzählen von ihren Erfahrungen aus ihrer Gründungszeit und teilen ihr umfangreiches Know How.
Anke Odrig – Gründerin von LITTLE BIRD. LITTLE BIRD ist die Nummer eins für digitale Organisation & Management von Kitaplätzen in Kommunen, Trägerorganisationen und Einrichtungen von Krippe bis Hort. 2015 wurde Anke Odrig für den Deutschen Gründerpreis nominiert. Außerdem hat LITTLE BIRD bereits viele Preise gewonnen. Letztmalig 2021 Digital Female Leader Award in der Kategorie IT-Tech.
Prof. Dr. Anabel Ternès von Hattburg ist eine der führenden Köpfe für nachhaltige Digitalisierung. Als Managing Director leitet sie das Institut für Nachhaltiges Management. Sie ist Vorständin des Deutschen Instituts für Gesunde und Nachhaltige Digitalisierung und mehrfache Gründerin von Impact-Unternehmen, darunter HealthMedo GmbH, CoCarrier GmbH und GetYourWings gGmbH, dem Lernraum für Zukunftsgestalter, mit dem sie u.a. innovative Online-Lernspiele entwickelt und mehrfach ausgezeichnet wurde (u. a. Google Impact Challenge, CEO eLearning of the year 2022, Beyond Crisis) anabelternes.de
Melde Dich jetzt für diese spannenden Impulse an und komm ins Gespräch. Die Initiative "FRAUEN unternehmen" und der Startup Incubator Berlin freuen sich auf den Austausch.
Teilnahme
An diesem Online-Event kannst Du bequem von zu Hause aus am Computer oder Tablet teilnehmen. Du benötigst lediglich einen aktuellen Browser, eine Internetverbindung sowie einen Lautsprecher oder Kopfhörer. Den Zugangslink für das Webinar erhältst Du per E-Mail am Tag vor der Veranstaltung.
Bitte beachte, dass während der Veranstaltung Foto- und Videoaufzeichnungen angefertigt werden.
Mit deiner Teilnahme an der Veranstaltung gibst du deine Zustimmung zu den Aufnahmen und etwaigen Veröffentlichungen.
Jetzt registrieren
Share This Post With Others!