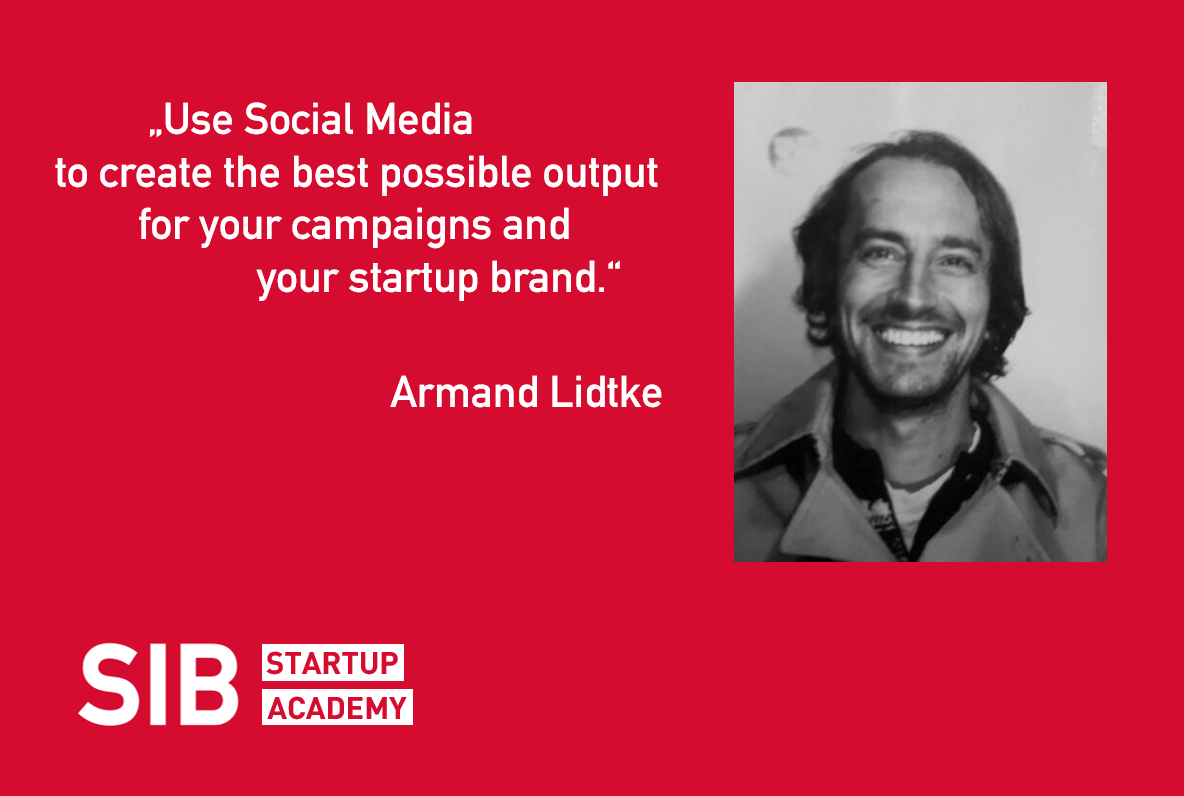 Workshop: Content Marketing for Your Startup
November 8 @ 15:00

-

18:00
In this two-part workshop, you will learn the most important things about brand building and online marketing. You will get guidelines to successfully create your startup brand and build awareness for it.
After you have created a compelling brand story, it is time to tell it to your key audience. How it works? With eye-catching pictures, clever texts and a few tricks & hacks. In the future you will use social media via learning by doing in such a way that you get the best output for your campaign.
You will get to know the fundamental difference between content marketing (pull) and paid/ads (i.e. push) and be prepared to use both disciplines.
This follows up on Armand's first workshop on brand building from October 18th, 2022.
Coach
Countless launches and campaigns have taught Armand Lidtke what good storytelling can do and he wants to pass this knowledge on to you. Because at least since Armand founded his creative agency (www.tropen.com), his heart burns for team spirit & entrepreneurship.
Participation
The workshop takes place on-site at the Startup Incubator Berlin, located the Berlin "Zukunftsort" Siemensstadt Square, and just a few steps away from the U7 subway station Rohrdamm.
Registration is possible below until November 7, 2022 at 5 p.m., the number of participants is limited to 20 people. Please let us know if you registered, but are unable to attend! The workshop is conducted on site only, a hybrid version (online and face-to-face) can't be offered, regrettably.
Due to the required registration at the gate and the access routes to the workshop room, we ask participants to arrive at the reception of our location (Rohrdamm 88, 13629 Berlin-Siemensstadt) in no later than 14:45 hrs. A photo ID (passport, driver's license, etc.) is required for access to the Siemens factory premises.
NOTE: Wearing a FFP-2 mask is mandatory for all participants of our on-site events. The nature of these events means that a minimum distance of 1.5 m between the people present cannot be maintained. You have to bring your own masks, the organizer does not provide masks.
The workshop is free of charge for all participants, as it is publicly funded. For administrative purposes, our sponsors require enrollment in our participants' lists (with full name, e-mail address, signature) on site.
Registration
Please note that photos or videos will be taken during our events.
By attending the event, you agree to a possible publication of those.
register here
Share This Post With Others!