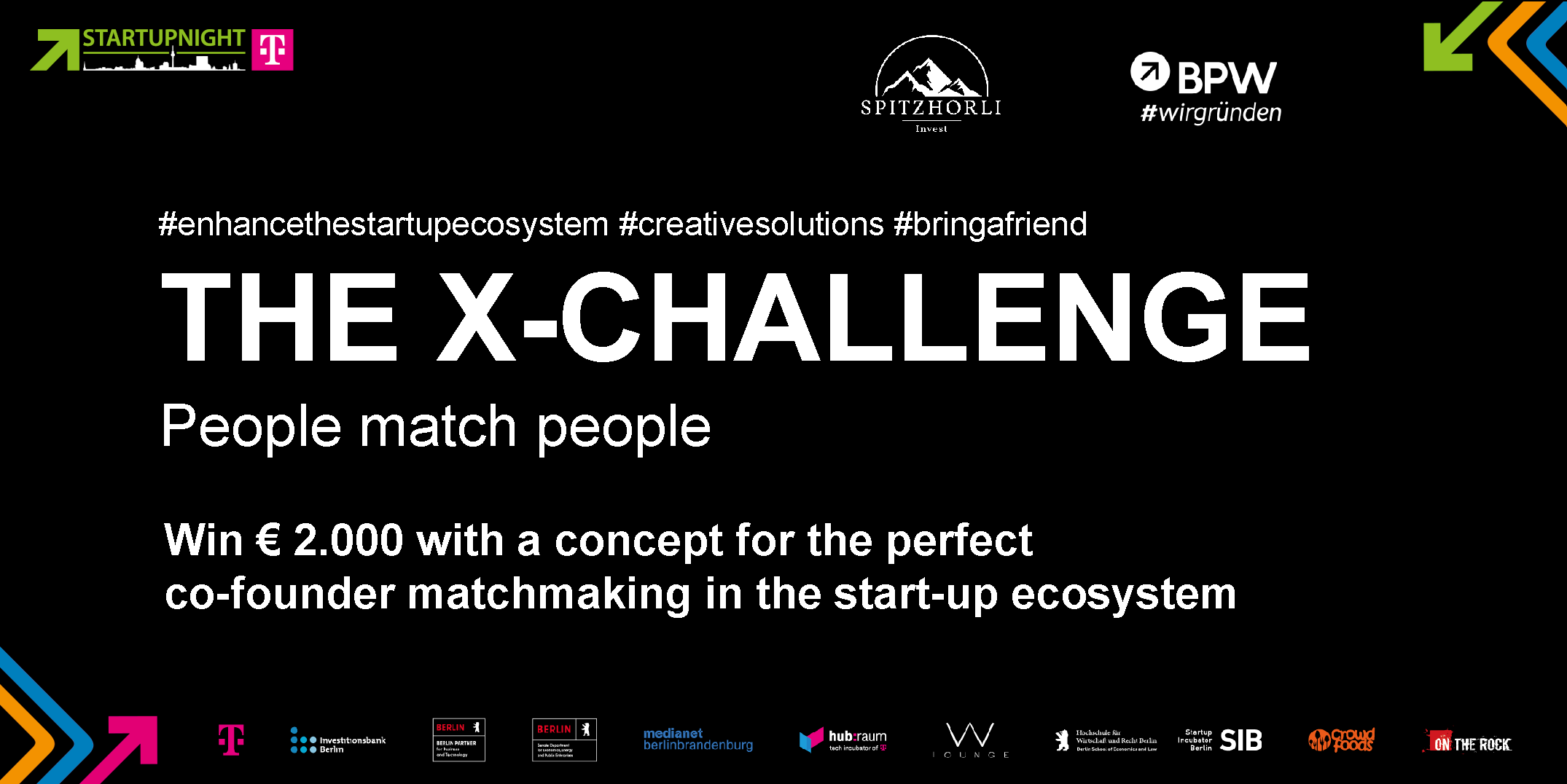 X Challenge – People match People
September 8 @ 15:30

-

September 9 @ 15:00
How would you like to find your perfect professional match?
For this X-Challenge from the Business Plan Wettbewerb Berlin Brandenburg – B-P-W everything revolves around finding real-life solutions to find a true professional match either in a startup or in a business! The BPW works in close cooperation with several universities in Berlin and Brandenburg to make this challenge happen. They are looking forward to new ideas and to be future customers.
Together with other participants you will tackle the question on how to find the right co-founder, discover new splendid team members or join a great startup mission?
During a 2-day Design Thinking Workshop (free of charge) you are meeting startup-minded participants, students and experts. Together you are creating solutions, engage through teamwork and train your skills by applying innovative design thinking methods. You will meet interesting startups and get to know their challenges within the talent search journey. Together with other participants you will create a concept for the perfect match making within the start-up ecosystem.
Truly designed for your needs and the startup market: People match people. The best idea will be awarded € 2.000.
Do you love a challenge and would like to meet interesting people? Do you want to be part of an interesting 2-day design thinking workshop in order to find user centric solutions?
Register here on Eventbrite & join us @SUN X (free entrance) the Startupnight!
WIN
The winning idea is awarded € 2.000 sponsored by Spitzhorli Invest AG and all participants receive free tickets to the deGUT in October. Besides that you have the possibility to learn and apply design thinking methods and meet potential new professional matches.
HOW
You will take part in a 2-day Design Thinking Workshop at the SUN X Recruiting Night (Sept 8 from 3:30 om – 7 pm) and Incubator & Accelerator Day (Sept 9 from 10 am to 3 pm) . You will learn all about innovative design thinking methods and how to turn your idea into a presentable pitch.
WHO
Everyone! By yourself or with a friend.
Get your ticket now:
https://www.eventbrite.de/e/the-x-challenge-sun-x-tickets-406692296607
Share This Post With Others!