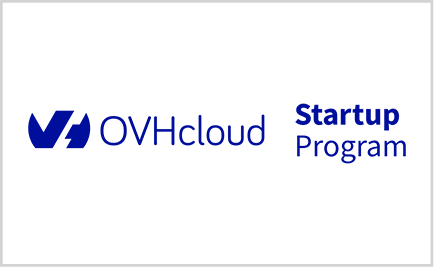 OVHcloud Startup-Program
OVHcloud Startup-Program – "Bring your ambition, we fuel your growth"
OVHcloud has successfully and effectively supported more than 2,000 startups worldwide since 2015 with an investment sum of several million euros in the form of infrastructure credits. The program accelerates the growth of your startup and supports you in realizing exponential and international growth, together with our strong ecosystem of partners. With OVHcloud you are well prepared to meet the needs of a wide range of use cases and industries such as finance, healthcare, and gaming.
The basis is formed by an infrastructure that is GDPR-compliant and not in the scope of the US Cloud Act:
Affordability with better price/performance ratio, no bandwidth costs, and free credits to start.
Technology freedom with no binding technology choices and a solution based on open standards.
Transparent pricing – no surprises when your credits run out.
How will we support you?
Access to credits of up to 100,000 € worth of OVHcloud products
We make you visible through access to our ecosystem, partner – and social networks, PR, and events
Initial technical support by our solution architects and subject matter experts
For more information on the OVHcloud Startup Program and and guaranteed access, please enter the Code SIB2021HACK and visit: https://startup.ovhcloud.com/de/
About OVHcloud
OVHcloud is a global player and the leading European cloud provider and founding member of the GAIA-X initiative operating 400,000 servers within its own 31 data centres across 4 continents. For over 20 years, we have been leveraging an integrated model that provides full control of our value chain, from designing our servers to managing our data centres to orchestrating our fibre-optic network. This unique approach enables OVHcloud to cover, independently, the full spectrum of use cases for our 1.5 million customers in more than 130 countries. OVHcloud now offers customers the latest-generation solutions that combine high performance, predictable pricing and full data sovereignty to support their unfettered growth.