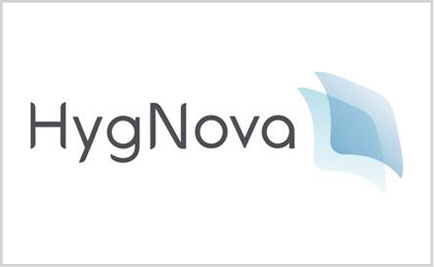 HygNova
Hospitals and nursing homes must reduce the rate and cost of their nosocomial infections (700,000 new infections and €1.3 billion annual cost in Germany).
Adequate hand disinfection is the factor with the highest evidence in the prevention of HAIs (Healthcare-associated infections). The WHO therefore calls for a multimodal approach to increase hand disinfection.
HygNova is a technology-based Reminding, Monitoring, and Live-Reporting System, which for the first time fully implements the WHO guidelines, permanently increases the rate of hand disinfection, and sustainably reduces costs by reducing the infection rate. A touchpad is the control center for all aspects of hygiene in the hospital room. It reminds staff and patients of hand disinfection via pleasant light and sound signals and also offers users attractively prepared content on the subject of hygiene. The success achieved by hand disinfection is displayed to the staff as direct feedback in user statistics. Gamification content on the touchpad leads to a sustainable connection to the hand disinfection process on the basis of behavioral theories. HygNova thus offers the possibility for a fundamental change in the handling of hand hygiene.
FOUNDING TEAM
Dr. med. Ehsan Khaljani
Simon Camilo Slama
Theresa Ebeling
WEBSITE
PROGRAM
Berlin Startup Scholarship
PARTNER UNIVERSITIES
Universität der Künste Berlin