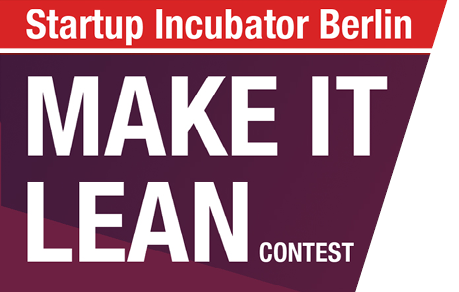 The Make It Lean Contest supports and awards innovative startup ideas that are implemented according to the Lean Method.
The total grant is in €15,000.
The prizes will be awarded to the first, second, and third place winners from the contest. In addition, two special prizes will be awarded for the category "Best Lean Startup" and "Siemens Prize(AR/VR in Industrial Application).".
Young startups with an academic background that implemented their startup idea according to the Lean Method or that are planning to implement it. Startups in the pre-startup phase and businesses up to one year after founding are permitted. Startups in the following categories are welcome to apply: #Social, #Hardware & #Software.
1st Place // Cabin Experience
Come into the wild and focus on what truly matters. We offer an immersion in nature through design. Whether as a traveller, a co-owner or a host: be part of our community and own your cabin experience!
Team: Javier Sanjurjo, Charles-Louis Melchior
Prize money: 5.000 €
2nd Place // Hülsenreich
Hülsenreich produziert und vertreibt geröstete Kichererbsen zum Knabbern und fördert damit nicht nur eine vollwertige Ernährung sondern auch eine nachhaltigere Landwirtschaft.
Team: Emilie Wegener, Simon Vogt, Gunnar Schulze
Prize money: 3.000 €
from left to right: Katarina Havrila (SIB employee), team member Hülsenreich
3rd Place // Connect
"Connect" ist eine App die Ridesharing und Navigation miteinander verbindet und es somit ermöglicht flexibel, sicher und günstig zu reisen. Der organisatorische Aufwand, wie es bei anderen Apps notwendig ist, fällt dabei weg.
Team: Malte Andree, Johannes Andree, Niklas Bartsch
Prize money: 2.000 €
Siemens Prize // mixed.world
mixed.world is an offer for efficient mixed reality solutions tailored to your business.
Team: Christoph Holtmann, Robert Meyer, Fabian Quosdorf
Prize money: 2.500 €
from left to right: Sina Landorff (Host), Adrian Grasse (Siemens AG), Team mixed.world
Lean Prize // My Help Buddy
My Help Buddy is an expat community marketplace for personal services.
Team: Aravinth Palaniswamy, Duc Tam Dam, Christina Papke
Prize money: 2.500 €
from left to right: Arne Meyer-Haake (jury member & Startup Coach at SIB), Team My Help Buddy
Make It Lean Contest 2019
Curious? The winners will be awarded in the celebration on October 10th 2019 at Startup Incubator Berlin. Afterwards the participants are invited for dinner and networking.
Would you like to be part of a great evening with founders and business representatives? Then sign up for the guest list.
1st of August 2019, 9am – 12pm

This workshop provides you with the opportunity to put your lean method to the test. Our coach and passionate Lean advocate Mario Schwery will show you a Lean Journey and discuss relevant steps of your "journey" with you.
6th of August 2019, 9am – 12pm

© Peter van Heesen
At the second workshop you will meet Shai Hoffmann, the crowdfunding series star.
He will coach you on your pitch video concept and give you valuable tips from his practical experience for an optimal communication strategy.
What does Lean actually mean?
You may be in the pre-startup phase or you may have already established your startup – both are ok.
In order to participate in the contest, the startup may not be older than one year.
Yes! We value the following points:
Problem-Solution Fit
Hypotheses Testing
Minimum Viable Product
Agile
Iterative procedure
Build Measure Learn
Business Model (Lean Canvas/Business Model Canvas)