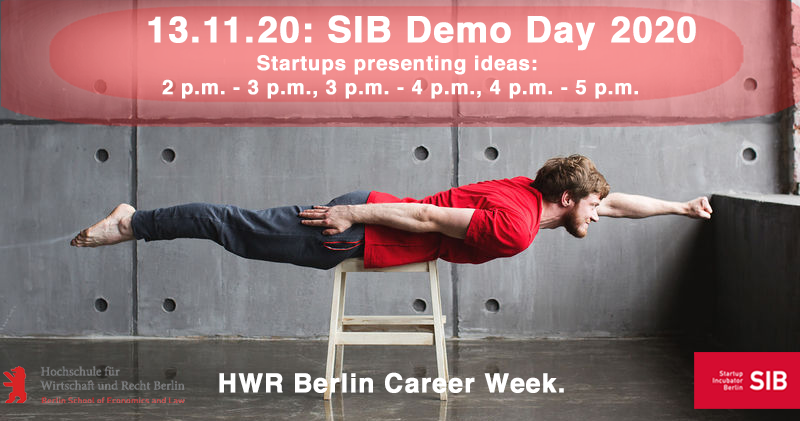 Startup Incubator Berlin Demoday 2020 (HWR Career Week)
13. November 2020 @ 14:00

-

17:00
Experience Innovation
For an immersive experience we will use the organic conference tool wonder at the day of the event.
We've created a virtual fair, where you will be able to walk around between Startups, Founders and Coaches like in reallife – just in a virtual space
Try here the virtual space of our last event: Co-Founder matching (Beuth, HTW, HWR)
Instructions:
Try it with a Friend

Use Google Chrome

Switch off other communication programs

This is just a trial-link and not the link for the Demoday 2020
Agenda
Our Startups will present their ideas to you and let you know about their challenges, pitfalls and successes. There will be regular presentations and Q&A Sessions in between. You will find the Coaches near the stage where you can find out about the Startup Incubator Berlin (HWR) programs that might fit your career needs.
There will be 3 rounds in order to make sure that we're not getting too crowded. You can choose to, either be there between:
2 p.m. – 3 p.m.: Round 1
Guest Speaker: Re2you Founder Ghazaleh Koohestanian has more than 15 years of experience in High Tech Solutions and Software Security made in Germany and is very passionate about her product innovation offering extensive technological independency.
3 p.m. – 4 p.m.: Round 2
Guest Speaker: Connfair offers a customized solution for exhibitions and events to a smart and flexible visitor control systems. Due to the corona crisis, Arne Schäufele invented an automatic and synchronized people counting light which enabled him to use corona as a booster for his startup.
4 p.m. – 5 p.m.: Round 3
Guest Speaker: Professor Sebastian Pioch, successful entrepreneur and author will share his knowledge on digital entrepreneuship and introduce his outstanding new book "Startup-Skills" published 2020 with exciting learnings from 13 influential founders such as Lea-Sophie Cramer (Amorelie), Tarek Müller (About You) and more.
We're looking forward to this eventprototype and are welcoming you wholheartedly at the SIB (HWR) and to the world of Startups.
Please note that videos will be taken during our events. By visiting our event, you agree to a possible publication of those. The registration is open until 1 day before the event. Tickets are limited.
Register Now
Share This Post With Others!